The Chrysler Pacifica minivan brings a long history of refinement to a new height with the refreshed 2021 model. Loaded with more standard content including 14 new-as-standard safety features; available in all-wheel drive gasoline versions; offering a plug-in hybrid variant; and presenting an ultra-luxurious new Pinnacle trim, this is a minivan that can surely beckon families away from impractical SUV fixations.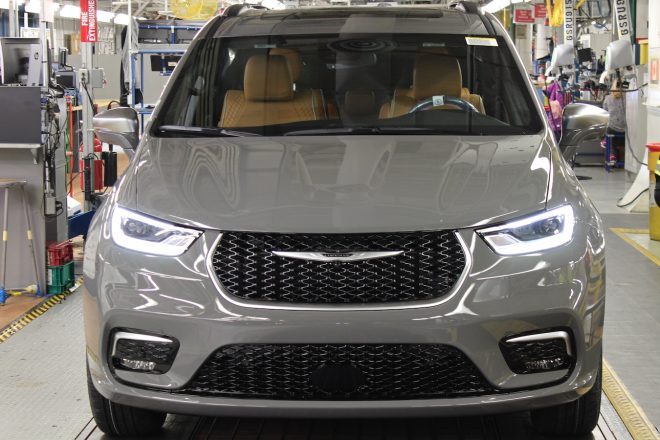 Production of the new-for-2021 Chrysler Pacifica began in November 2020. The minivan sets a new standard, offering all-wheel-drive capability, utility-vehicle-inspired updates, new available interior FamCAM, new five-times faster Uconnect 5 with a 10.1-inch touchcreen, a new top-of-the-line Pinnacle model, unmatched levels of safety and security features and the segment's first Plug-in Hybrid minivan. ~ Stellantis North America Media
From every indication, attracting new customers is just what this minivan has been doing with sales up 32 percent in last year's third quarter over 2019, and up seven percent in the fourth quarter according to the automaker's senior brand manager Mary Ann Capo, who met this past week virtually with RPM News Weekly and members of the New England Motor Press Association. No doubt the range of the Pacifica's well-honed lineup has had a big part in the success with an entry-level Touring priced at just over $35 thousand while a top-of-the-line all-wheel drive Pinnacle checks in at $53,390. The hybrid Pinnacle, available with front-wheel drive only, knocks the price down to $50,845 while boosting fuel efficiency to an amazing 82 miles per gallon equivalent.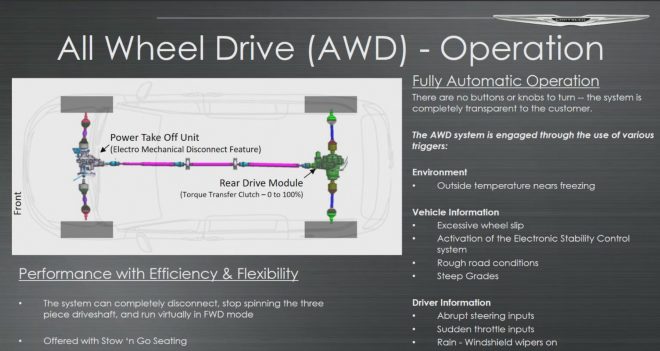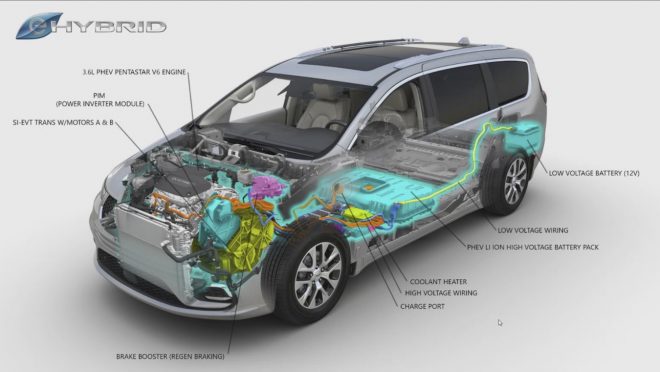 From its 1990s era start as a minivan concept that was clearly ahead of its time, the Pacifica has been on a curious journey that eventually began in the marketplace as a crossover for the 2004 model year. Unfortunately, that Daimler-Chrysler inspired progeny never quite reached its audience, and the nameplate was shelved for nearly a decade only to return in 2017 to its thwarted beginnings as a minivan.
Four years hence and the Pacifica fully gets due justice in its Pinnacle form, strutting onto centerstage with all the poise and purpose of a star deserving every bit of her celebrity. A quick rundown of some of its exclusive features is enough to make this New Englander swoon – fully automatic all-wheel drive, a new Uconnect 5.0 touchscreen infotainment interface with a 10.1-inch display and built in theater games, wireless Apple CarPlay and Android Auto, FamCAM interior camera, USB A and C, LED lighting (standard), forward collision detection with pedestrian automatic emergency braking, Stow 'n Go seating, automatic high beams, LED tail lamp illumination that spans the width of the rear, and quilted leather seating with rear lumbar pillows. Front and rear seating is heated, front seats also get ventilation.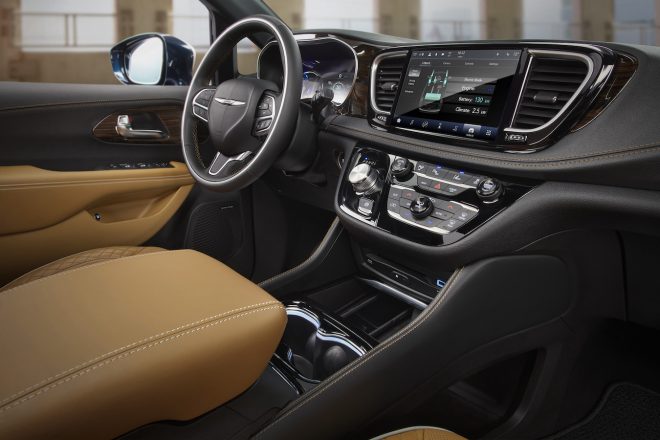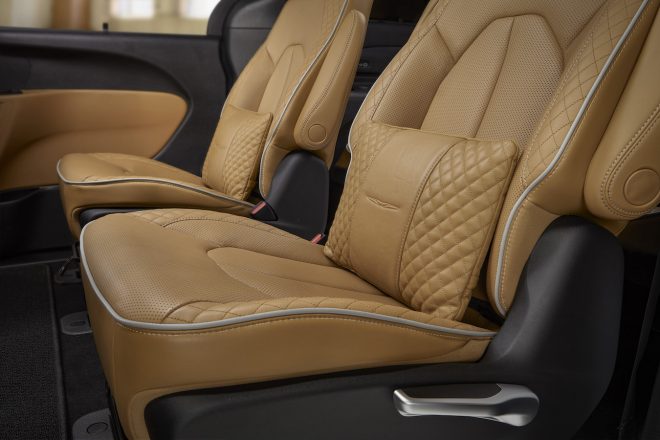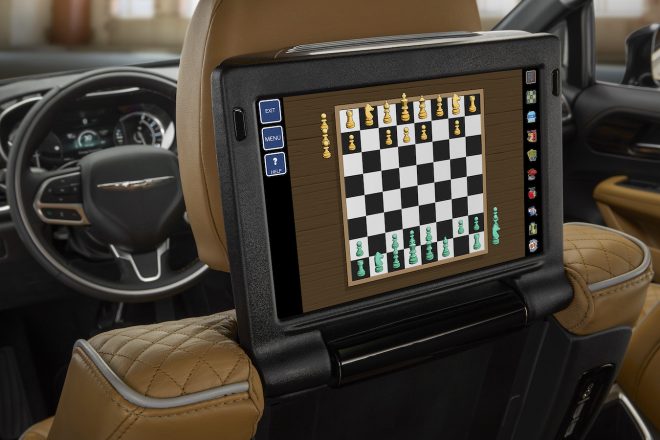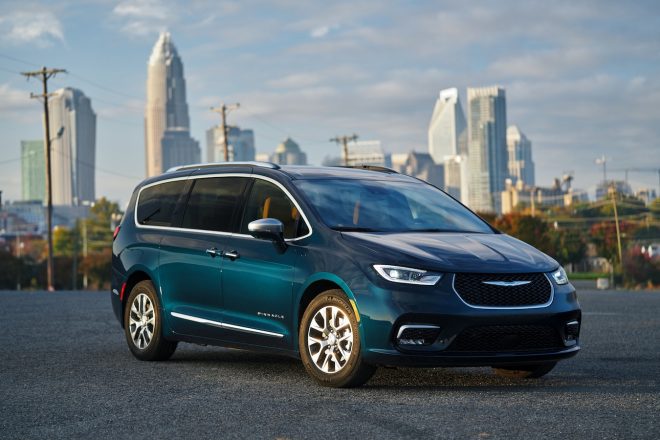 If you're concerned about having ample convenient cubby storage space, well is eight cubic feet enough? If you include the third row seat tub, that's what you get. And, then there's the 140.5 cubic feet available to you when you stow the rear seats and open up the entire cargo area.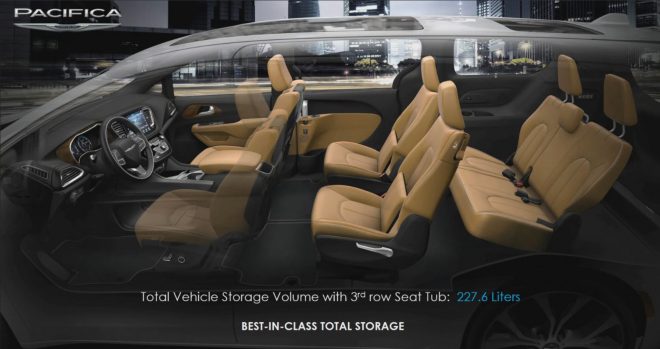 All photos courtesy of Stellantis North America Media
All trims are equipped with a 3.6-liter V6 gasoline. Output is rated at 287 horsepower in the gasoline only versions of the Pacifica, while the gasoline/electric hybrid earns a net rating of 260 horsepower. It might not win you any quarter-mile drags, but certainly enough power whether you're behind the wheel of the 4521-pound front-wheel drive Touring or Touring L, 4883-pound all-wheel drive Pinnacle or any of the four 5010-pound PHEV trims.